Excerpt from a paper read to the Stirling Natural History and Archaeological Society on 18th March 1930 by the Rev. J.H. Horton-McNeil, minister here 1927 - 1934.) following a search of old church session minutes.
"Among cases dealt with by the Kirk Session are cases of libel and scandal, and with suspected dealings with the power of witchcraft. A woman in the parish is accused in 1631 of going to another suspected of witchcraft to seek help for a sick cow. She confessed that she went to her, and the said Rosie bade her go home and go to some of her neighbours houses and seek from them the thing that slew the mice without speaking the proper name or suffering any other to speak the name of it.
The poor cat was to be put thrice round the cow and then flung out at the door. The woman was also to take her left foot shoe and put it thrice about the cow, and every time to give the cow a clap with the sole of it. She was then to take some of the cow's milk and put it out at a hole of the house where no light came in, and take it from the outside and mix it with the water of a March or boundary burn, and bring it home and put thrice thereof into the cow's lug,
".......all of which she confessed she did and got the cat in William Swan's house, and within four days after had the fairest young cow. Because this matter was odious and uncouth therefore the censure thereof was referred to the visitation of the Kirk which was to be shortly thereafter."
When she compeared at the visitation,
"After a grave reproof for her sin the Brethern ordained her to make her publick repentance upon the public place in her lining, and to be punished in her gear or goods at the sight of the Session who know her estate."
The original Session Minutes from which this story was drawn can be inspected in Stirling Council's Archives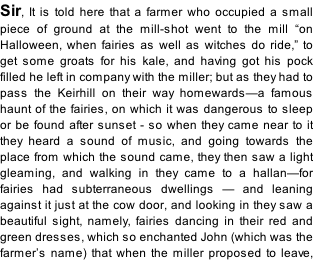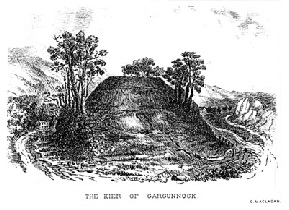 Another three Fairy Stories from 19th century local newspapers
Sir, It is told here that a farmer who occupied a small piece of ground at the mill-shot went to the mill "on Halloween, when fairies as well as witches do ride," to get some groats for his kale, and having got his pock filled he left in company with the miller; but as they had to pass the Keirhill on their way homewards—a famous haunt of the fairies, on which it was dangerous to sleep or be found after sunset - so when they came near to it they heard a sound of music, and going towards the place from which the sound came, they then saw a light gleaming, and walk­ing in they came to a hallan—for fairies had subterraneous dwellings — and leaning against it just at the cow door, and looking in they saw a beautiful sight, namely, fairies dancing in their red and green dresses, which so enchanted John (which was the farmer's name) that when the miller proposed to leave, John said," Wait awee, man, till they're done;" but the miller would not remain and left, saying " You may stop for twelve months, but I'm awa'
John not returning home that night his wife and children were in great consternation about him. Search was made everywhere, but no John could be found; even the miller could not or dared not tell where he parted from him. It was at last concluded that John had been carried off by the fairies. On the next Halloween coming round, and the miller passing the Keirhill on his way home, he again heard the same sound and saw the same light; and going to the same place, who did he see but his old friend John leaning with one shoulder against the hallen and his peck of groats in the other, still enjoying the sight of the fairies dancing. The miller again asked him to leave the place, but John again said "Wait till they're done."
He at length consented to leave with the miller. When John came to his house be was much surprised to see his children looking older than when he left them, not knowing that he had been so long absent. His wife and children were afraid of him until the Minister and neighbours met with him, when a full explanation took place, and John and his family were perfectly reconciled to each other. It is said that he did not long sur­vive the fairy adventure.
Sir, Another well known fairy tale told here is of a poor woman of the name of Jenny Clow, who lived at Muttonhole, Gargunnock. (I've never heard of that location - Ed)
One night hearing a sound at the door of her cottage, and as her fir spunks were exhausted, she took some straw from under her bed as a substitute, and the night being windy all her attempts to carry the lighted straw to the door proved ineffectual. In a short time a diminu­tive creature made its appearance and pushed itself on a chair, while Jenny exclaimed, "Guid hae me, what art thou?" when the fairy said, " I am come to borrow a basin of meal, and shall pay it to you back when the mill is burned."
Not long afterwards the mill was burned down, and the poor woman was surprised to find that her stock of meal was abundant, of course con­cluding that she was indebted for her supply to her "guid neighbours," a title usually given to the fairies.
Jenny Clow was thus rewarded for her kindness, and such is the moral to be drawn from the tale.
And now Sir, I beg to state for the information of your sermonising cor­respondent the firm believer in witches, that a hundred years before our day, old Tibbie Garrow here saw a whole batch of witches take their flight from the Keirhill and fly to a spot called the Nyad Knowe (right), where it is possible they still may be found, and if so, he can still have an op­portunity of erecting a pile and burning the poor witches.
And as to his letter, I shall say—as the dying Laird of Dumbiedykes said in regard to the only prayer that he ever asked for in his life— "Gang awa wi' your whiggery, if that's a' ye can do; auld Curate Kilstoup